3D Folded Blocks
With Esther & Geesje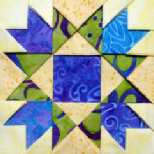 January 2011
Hello quilting friends,
Thank you so much for all the little notes you keep sending... it's so encouraging to get feedback and hear about which projects you've made! We're hoping to build a Student Gallery, so please send pics for us to post. It's always so inspiring to see how others combine fabrics... we'd really love to see them!
It's still cold up here in Manitoba, but not so cold that we haven't been enjoying the frozen pond out back or snowshoeing through the bush. Hope you're enjoying the weather as well, whatever your climate! Plus there's lots of fun stuff on the agenda... A trunk show, another gallery show, and workshop requests coming in... You can find the dates and locations here.
Meanwhile, we're busy designing new pieces, particularly projects with larger block sizes. We'll be posting pics of some of the new projects soon, so if you haven't already, please subscribe to our newsletter so you can check out what's on our sewing tables when new photos pop up on the site!
Keep in touch,
Esther & Geesje
(To stop receiving our newsletter, email us with "unsubscribe" in your subject line.)
More news... Geesje's web site, www.conundrumquilts.com, is finally fully activated and ready to show off her hand-dyed fabrics, patterns, kits and more (if you've visited there before, it has a whole new look now and lots of great things to see, including a gallery of her quilts). FYI, her web site is named for her love of quilting impossible shapes, like the one in her header, a quilt named Cubic Conundrum, shown to the right, as well as Knot in Flow Motion, which won a ribbon at our national quilt show last spring.
Gemstones, the Breeze Catcher, Spring Flowers, and our Shopping Bag are made with hand-dyed fabrics, and we know a lot of you have been waiting for Gemstones kits in particular... those are now available at www.conundrumquilts.com.